This item has been added to your favourites list |
View All Favourites
AVF ZL8601 Super Slim Tilting LED TV Wall Bracket 42 47 50 52 60
AVF Group Ltd has over 30 years of experience within the Audio Visual Industry, and their quality of craftmanship, experience and attention to detail are second to none.
Perfect for the new range of slim LED and LCD TV's, the Super-Slim range is the perfect choice if you are looking to mount your screen really close to the wall in order to achieve a really clean, showroom style finish and it gives you the flexibility to tilt your screen forwards for the perfect viewing angle.
This bracket is truly unique as it will mount your TV just 25mm from the wall which is slimmer than 95% of the flat wall brackets on the market, but it also allows you to tilt your screen forwards.
Specification


Designed for 40 - 60" LED and LCD TV's 
Lock&Release system
Easy screen levelling after install
Mounts just 25mm from the wall
Forward Tilting
Fingertip adjustment
Max Weight - 68kg

Will this Bracket fit my TV?

On the back of your TV there will be 4 x mounting holes, if you measure the distance between these mounting holes, in millimetres, you will have your VESA measurement.

This Bracket will fit VESA measurements:

300x300 | 500x300 | 400x400
600x400 | 700x400 | 800x400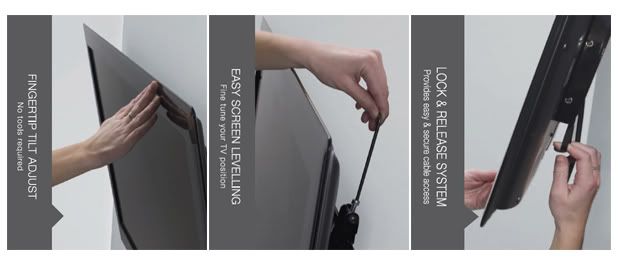 FREE UK Delivery on all orders over £50.00 - Smaller orders incur a £4.95 charge
Thank you ! We have received your message.
Ask a question or leave feedback about AVF ZL8601 Super Slim Tilting LED TV Wall Bracket 42 47 50 52 60